Earth Awareness Trust
Wildlife education initiative
|
Rhino Knights
|
Equine Outreach Project
|
Riding for Horses
|
Donate
The Earth Awareness Trust is about encouraging social change through environmental awareness and education. With our campaigns and projects we aim to achieve long lasting social change all over the world. In 2015 we are launching "Schools without Borders", a whole new series of enviro educational school sessions connecting children from all over the world!
We aim to:
Educate the public especially children in Africa and all over the world

Raise worldwide awareness for communities, wildlife and the environment

Empower communities and children

Gather information on the current wildlife situation

Encourage conservation organizations in Southern Africa to join forces
PARTNERS IN CONSERVATION:
The Lawrence Anthony Earth Organization and their anti poaching & education initiative www.earthorganization.org
"The Lawrence Anthony Earth Organization (TLAEO) is an independent, non-profit group which seeks to reverse the dwindling spiral of the plant and animal kingdoms and our environment through education and action."
Founder of the organization Lawrence Anthony, author of Babylon´s Ark, The Elephant Whisperer and the recent bestseller The Last Rhino, always said that, "there is no silver bullet" to saving our Rhino´s - we need to do it all.
---
The Magqubu Ntombela Foundation and their anti-poaching initiatives www.mnf.org.za
The establishment of the Magqubu Ntombela Memorial Foundation (MNF / the Foundation), founded by Dr Player, Andrew Ewing and Nick Steele, was based on a promise that Dr Player made to Magqubu Ntombela.
Dr Ian Player, who considers Magqubu his great mentor and friend, once said: "Through his patient instruction he introduced me to a new cosmology. We worked together capturing rhino and on long patrols fighting poaching gangs. Together we took more than 1000 people into wilderness areas of iMfolozi and Lake St Lucia. He always led with courage; following the rhino paths and stopping to explain the history of the landscape. For Magqubu the hills and trees lived."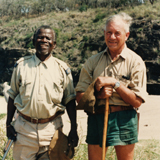 ---
EARTH AWARENESS TRUST
F

ounding Directors and Trustees:
Lloyd Gillespie

Isabel Wolf-Gilllespie
Additional Earth Awareness Trustees:
Tracy Robertson (Trustee)

Iain Ewing (Trustee)
Earth Awareness Trust No: IT020079/2014 and has been registered in terms of Section 6(1) of the Trust Property Control Act, 1988 (Act 57 of 1988)
Tax status: Tax status: Application has been made to SARS for a section 18A tax status so that we can issue donors and sponsors with section 18A tax receipts - this is still in process.
Auditors: Leask & Partners Ballito