Rhino Knights
Travel blog
|
History
|
Rhino Facts
"MAKING A STANDPOINT TO DO WHAT WE CAN TO PROTECT OUR PLANET AND PRESERVE ITS BIODIVERSITY"
CLICK HERE TO DOWNLOAD THE FULL CAMPAIGN COMPLETION REPORT!
"Every day on the move Isabel ran a half marathon (21km) and cycled between 80-120km through the countries of Southern Africa (South Africa, Namibia, Botswana, Zimbabwe, Swaziland and back to South Africa). Assisted by her sister Raphaela and her husband Lloyd as support team and filmer she covered a distance of 9 300kms in 4 months and 18 days."
Aims:
- To raise worldwide awareness for Rhino using all media available (Social networks, Rhino Knights YouTube Channel, Websites, print and digital media, TV,..)
- To conduct a survey/questionnaire to gather information on the current Rhino and wildlife situation, interviewing high profile conservationists, organizations, individuals along our route
- To encourage Rhino conservation organizations in Southern Africa to join forces and stand together as one united voice under one umbrella => 'Strength in Unity'
- To educate the public (especially children) through talks in schools, groups, wildlife conservancies, cities and towns, farming communities en route
- To involve the public through organized fun run´s/fund raiser evenings along our route
- To document the campaign on film for weekly Youtube Channel uploads and a completion documentary (Motivating everyone around the globe to upload a short clip of their Rhino effort and at the end their efforts will be part of the Rhino Knights documentary => A virtual Rhino Knights movement across the world!)
FUND RAISING iS NOT A MAJOR FOCUS BUT IF PEOPLE WOULD LIKE TO DONATE THE FOLLOWING METHODS ARE AVAILABLE:
Public donations via SMS short code, Paypal and direct transfers at talks, presentations, fund raisers, fun run´s

Motivate the corporate sector to donate R 10 per exercised (run, cycled, horse ridden) kilometer by Isabel

Rhino Knights merchandise
ON COMPLETION AND THEREAFTER
- Analysis of survey questionnaire and the information gathered => Followed by active involvement in Anti-poaching measures (Phase 2)
- Further awareness and education initiatives (Phase 3)
- If funds were raised Rhino Knights has joined hands with the two following organizations and 100% of profits will be shared between them.
The Lawrence Anthony Earth Organization for their anti poaching & education initiative www.earthorganization.org .
"The Lawrence Anthony Earth Organization (TLAEO) is an independent, non-profit group which seeks to reverse the dwindling spiral of the plant and animal kingdoms and our environment through education and action."
Founder of the organization Lawrence Anthony, author of Babylon´s Ark, The Elephant Whisperer and the recent bestseller The Last Rhino, always said that, "there is no silver bullet" to saving our Rhino´s - we need to do it all.
---
The Magqubu Ntombela Foundation towards their anti-poaching initiatives www.mnf.org.za .
The establishment of the Magqubu Ntombela Memorial Foundation (MNF / the Foundation), founded by Dr Player, Andrew Ewing and Nick Steele, was based on a promise that Dr Player made to Magqubu Ntombela.
Dr Ian Player, who considers Magqubu his great mentor and friend, once said: "Through his patient instruction he introduced me to a new cosmology. We worked together capturing rhino and on long patrols fighting poaching gangs. Together we took more than 1000 people into wilderness areas of iMfolozi and Lake St Lucia. He always led with courage; following the rhino paths and stopping to explain the history of the landscape. For Magqubu the hills and trees lived."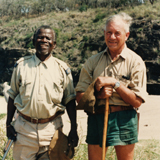 ---